The 21st century workplace can be a challenging place.
With the constant flow of emails and endless rounds of meetings, it can be a struggle to manage ever-increasing workloads while maintaining some semblance of life outside work. All this, while finding the time to focus, be creative, solve problems, think strategically and develop others.
WorkLifePsych is a team of occupational psychologists who support individuals, teams and organisations to develop their effectiveness, productivity and wellbeing. We call this 'whole-person development' and see these three areas as core to individual and in turn, organisational success.
Whole-person development
Our approach is to develop people from a whole person perspective, acknowledging that they have lives outside the workplace, multiple roles within their lives and strengths and development areas across all these areas. It's pointless to ignore who we are outside of work when we're trying to be our very best when at work.
We approach development from three complementary perspectives: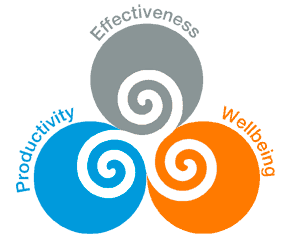 When it comes to professional effectiveness, we avoid any reference to 'soft skills'. We focus on the skills that allow professionals to leverage their technical skills and experience and work with greater impact, influence and success.
Given the multiple and sometimes competing demands we face in the modern workplace, we help professionals become productive – that is, ensuring our limited resources are focused on the most important tasks at the right time.
Finally, effectiveness and productivity are both undermined when our wellbeing is threatened by workload, pressure and the unhelpful coping habits we've picked up over the years. Our focus on wellbeing emphasises positive and sustainable change that represents an investment in future success.
WorkLifePsych provides coaching, structured development and training to help your organisation achieve success through its employees.